Amercook is a professional kitchenware brand, committed to providing consumers with high-quality, environmentally friendly and healthy cooking experience. Recently, Amercook announced that it will participate in the Mega Show Party 2023, which will be held at the Hong Kong Convention and Exhibition Centre from October 20th to 23rd, 2023, and display the latest environmentally friendly vegan series and other new products at the exhibition.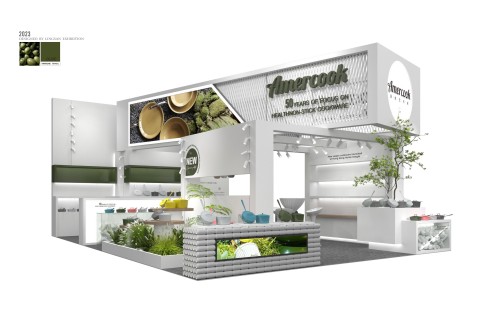 Amercook's environmentally friendly vegan series is a cookware designed for vegetarians, using non-toxic and harmless materials and processes, without any animal ingredients, which not only conforms to the vegetarian lifestyle, but also ensures the nutrition and deliciousness of food. In addition, Amercook will also display other innovative kitchenware products, including:
· Avocado series: a kitchenware inspired by avocado, using a green and yellow gradient color design, giving a fresh and natural feeling. The series includes woks, soup pots, frying pans and other specifications, suitable for various cooking needs.
· Alfetta Chinese red series: a kitchenware with Chinese red as the main color tone, using black snowflake sprinkles and red high-temperature coating, with wear-resistant, corrosion-resistant, easy-to-clean and other characteristics. The series includes knives, tableware, kitchen utensils and other accessories, suitable for fast-paced modern life.
· LE PLURIEL series: a kitchenware with French style as the feature, using blue cast iron material, with high gloss, high strength, high heat resistance and other characteristics. The series includes flat-bottomed pans, deep pots and other specifications suitable for frying steak stewing cooking, suitable for exquisite and elegant dining table atmosphere.
Amercook sincerely invites new and old customers to come to Hong Kong to participate in this grand exhibition and experience the charm of Amercook's kitchenware. Amercook's booth number is Booth No Hall 3E, looking forward to your visit!